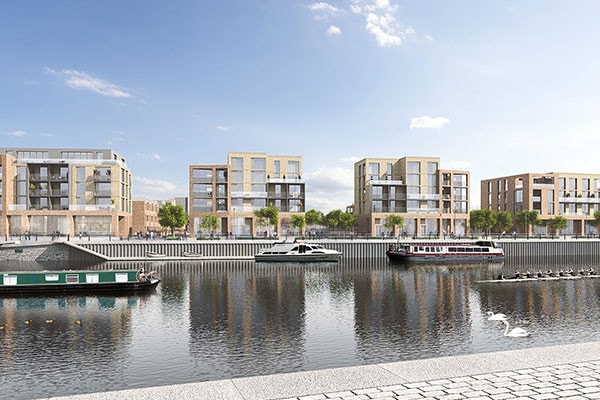 Trent Bridge Quays to offer luxury living down by the riverside
Elevate Property Group has announced it is to start the construction of 95 houses and apartments perfectly placed on the banks of the River Trent, midway between the city centre and the highly desirable area of West Bridgford, Nottingham.
The development, to be known as Trent Bridge Quays, is Elevate's first project in the East Midlands and its second joint venture with Investin plc.
The project has been hailed by David Hargreaves, managing director of agents FHP Waterside Living as one of the best located developments in the area.
He said: "Trent Bridge Quays provides purchasers with easy access to the city for work and West Bridgford's bars, restaurants and retail offering for leisure. It's a very clever location for all sorts of reasons.
"It is not in the city centre nor in West Bridgford but has a foot in both camps, with easy access to both the city centre and West Bridgford"
He said the announcement further enhanced Nottingham's burgeoning riverside community with other developments such as Park Yacht Club and Trent Basin all adding to the mix.
"Trent Bridge Quays and these developments all benefit from each other and deliver something different.
"There is a lot of pent up demand in Nottingham for innovative developments such as this," he said.
Trent Bridge Quays will continue Elevate's commitment to delivering affordable luxury with properties ranging in price from £135,000 for a one-bedroom apartment, to £750,000 for a three-bedroom penthouse with rooftop garden and views across Nottingham and along the River Trent.
The development will consist of a range of three storey townhouses, all with terraces either to the front or rear, and apartments in large blocks flanking the River Trent and Meadow Lane. There will also be retail opportunities with two units in the development.
Elevate Property Group is the company behind a number of highly successful residential developments in Birmingham including Concord House, Honduras Wharf, St Paul's House and Queensway House.
Its first joint venture with Investin plc was the development of Queens House in Coventry, a 62 apartment development that is almost sold out.
Steve Dodd, managing director of Elevate Property Group, said: "Trent Bridge Quays is being built in one of the most desirable areas in Nottingham.
"West Bridgford is the most expensive area of real estate in the East Midlands and so this development represents a significant project for Elevate."
"The development sits within the Waterside Regeneration Area and has been specifically designed to provide a new public promenade along the river for pedestrians and cyclists.
The development stands where the Nottingham and Beeston Canal meets the River Trent.
The canal towpath provides a foot and cycle route right into the heart of the city and Nottingham's vibrant nightlife.
The site on Meadow Lane will be popular not only with lovers of riverside living, but also sports enthusiasts.
It is within walking distance of Test Match and county cricket at Trent Bridge, Nottingham Rowing Club, Championship football at the City Ground of Nottingham Forest FC, Notts County FC at the Meadow Lane ground and Nottingham Rugby Football Club in nearby West Bridgford.
The project has been designed by the Birmingham office of international architects BDP and construction is expected to soon with the first homes available in the third quarter of 2018.
David Hargreaves said they were anticipating keen demand for Trent Bridge Quays.
"It is close by West Bridgford where house prices range from £200,000 to £4 million, an area that has the feel of a London suburb such as Chiswick or Putney. The area was named in a 2016 Lloyds Bank survey as a property hotspot and one of the most desirable places to live in the UK.
"We are already receiving inquiries about early off-plan opportunities, and we believe this reflects the strong interest there will be in this development."