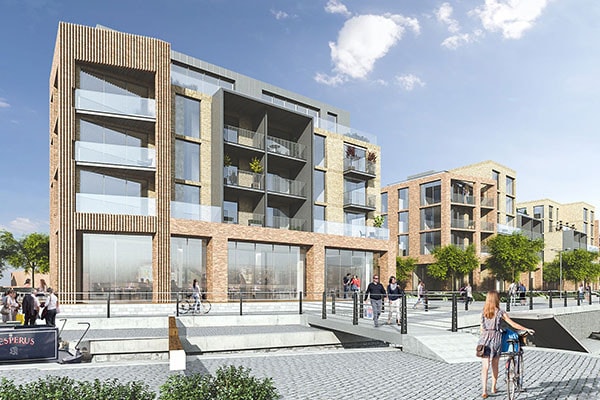 Developers celebrate Trent Bridge Quays green light with new project announcement
The developers of Trent Bridge Quays are delighted to have received final planning consent for the 95 houses and apartments and have followed the news with the announcement of a second project in Nottingham.
Joint venture partners Elevate Property Group and Investin plc said they were now looking forward to starting on site in Spring 2018.
Elevate MD Steve Dodd said: "Trent Bridge Quays will kick start the western end of the waterside regeneration and provides some of the best homes available in Nottingham in the coming 18 months."
The news comes just as Elevate and Investin have acquired the Milk and More yard, also on Meadow Lane.
The partners are currently working up a proposal for more residential development – likely to be in the region of a further 60 homes – and will be submitting plans in the New Year.
Trent Bridge Quays will continue Elevate's commitment to delivering affordable luxury with properties ranging in price from £145,000 for a one-bedroom apartment and townhouses from £295,000. Prices on application for a three-bedroom penthouse with rooftop garden and views across Nottingham and along the River Trent.
The development will consist of a range of three storey townhouses, all with terraces either to the front or rear, and apartments in large blocks flanking the River Trent and Meadow Lane. There will also be retail opportunities with two units in the development.
Elevate Property Group is the company behind a number of highly successful residential developments in Birmingham and Coventry including Concord House, Honduras Wharf, St Paul's House and Queensway House in Birmingham, and Queens House in Coventry.
David Hargreaves, managing director of selling agents FHP Waterside Living said that Trent Bridge Quays and the nearby Muller site would bring much needed quality housing to Nottingham, and their proximity to West Bridgford and Trent Bridge, and easy access to the city centre, provided a very compelling offer.
"Trent Bridge Quays will be one of the best located developments in the area. It provides both easy access to the city centre for work and the popular West Bridgford area for shopping and leisure.
Steve Parker of FHP Waterside Living said: "This new development adds to the momentum in this burgeoning riverside community with developments such as Park Yacht Club, phase 1 of Trent Basin and Riverside, the former civic centre, proving complementary in adding to the mix and offer available," he said.
Giles Brockbank from Hunter Page Planning Ltd said: "Hunter Page Planning have successfully negotiated planning permission for 95 dwellings with Nottingham City Council and are delighted to be involved in unlocking the development potential of this site and helping Elevate bring the redevelopment of the land at Meadow Lane to fruition. "
Tom Hewitt and Egon Hansen from BDP Architects provided new building designs for the entire development, setting a new benchmark for high quality regeneration in the area.
Internal layouts have been arranged to improve the quality and sense of space for prospective homeowners, the external design of each building has been carefully considered to create a harmonious appearance for the development and to expresses an enduring sense of quality and solidity.
Nicholas Lamb, director at Naismiths Construction & Real Estate Consultancy who are advising on the development of the site, said: "Our client has an excellent track record of delivering quality affordable much needed homes and we are delighted to be involved in much needed regeneration to this key area of Nottingham.
"The team has worked closely with Nottingham City Council to achieve an attractive and deliverable scheme which we believe will add value to the area and act as a catalyst for the Council's aspirations for the regeneration of the rest of the Trent Waterside area."
Steve Dodd said: "It has been a real team effort to rework the Trent Bridge Quays proposals into a viable project that we can proceed on now, and we are grateful for the understanding and support of Nottingham planners."
For further details, see http://www.elevatepropertygroup.co.uk/developments-grid/trent-bridge-quays/ Sole agents are FHP Waterside Living on 0115 841 1155, or email davidh@fhp.co.uk